Trevor Loudon is an author, filmmaker, and political commentator from New Zealand.
Here is his bio:
From Christchurch New Zealand, Trevor Loudon has been researching the radical left for more than 30 years.

Trevor Loudon discovered the long-hidden relationship between notorious Hawaiian Communist Party member Frank Marshall Davis and the young Barack Obama in 2007. After extensively researching Obama's ties to the New York and Chicago Marxist movements, Loudon began publishing his findings online, catching the eye of such prominent voices as Accuracy in Media and syndicated radio host Glenn Beck.

In 2009 Loudon exposed the communist roots of Obama "Green Jobs Czar" Van Jones. After an extensive campaign by Glenn Beck and others, Jones was forced to resign from his White House position. Since 2011 Loudon has toured the United States promoting his two books "Barack Obama and the Enemies Within" and "The Enemies Within: Communists, Socialists and Progressives in the U.S. Congress" – an extensively footnoted expose of the rapidly unfolding Marxist takeover of the United States government.

Loudon has addressed more than 400 conservative, tea party, religious and Republican groups in more than 37 states. Loudon has interviewed many people from both sides of the struggle over the years to former Western intelligence offices, to government undercover operatives inside the communist movement, to former KGB officers.

This research has given Loudon unique insight into how extensively often miniscule communist parties have been able to manipulate, and even control policy formation in many Western countries – particularly the "main enemy:" the United States of America. Loudon's research shows that this is not just a historical problem, but is a very grave and looming threat which will not only impact America's national security but indeed her very survival.
He has just released a documentary titled The Enemies Within and it will be the primary topic of our conversation.
Here is a summary of the movie:
"The Enemies Within" zooms in on the best-kept secret of modern politics. Almost no one is aware of the fact that fewer than 20,000 U.S. communists, socialists and extreme "progressives" are able to influence the politicians and even write the laws that control the lives of over 300 million Americans.

First they infiltrated the unions…gaining full control in 1995. They then used the union money and leverage to purge the Democratic Party leadership of moderates and conservatives…replacing them with dozens of union and communist sympathizers.

Next, they used their bought-and-paid-for-lackeys in the House of Representatives and the Senate to ram through a radical communist/union agenda. Purported Democrat policies such as "green jobs", the insane New START Treaty with our so-called "partner" Russia, socialization of student loans, the massive easing of voting qualifications and consequent vote fraud bonanza, mass educational indoctrination, the gutting of the U.S. military, Harry Reid's Senate "nuclear option" and, of course, both Obamacare and "immigration amnesty" all come directly from the union/communist playbook. While the economy implodes and the Republican hierarchy plays games, America's tiny communist minority, aided by a cowardly and often complicit "mainstream media", is tearing apart the greatest nation ever built on God's Earth.
Watch the trailer here:
You can buy the DVD here: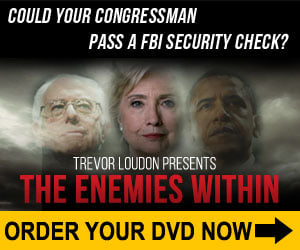 Obviously, it will be an incredibly interesting segment.
Also, per usual Wednesday practice, David Shestokas and I will be doing another Constitutional Sound Bites segment.
---
The show is live at 7am PST / 10am EST.
Listening options here:
Show voicemail number: 949-478-0027
---
Thank you for reading and please share!
Please follow the show via our Spreaker site or subscribe to the podcast in the iTunes Store. You can also get a free app that will allow live-chat during the show in the Google Plus or Apple iTunes stores.